---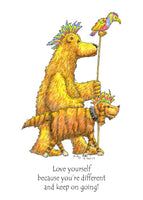 Love yourself because you're different and keep on going
Some people like to tell other people what to do, to put them down because they don't match their own ideas, that's their problem not yours, it's a free country and everyone is different, so keep on being yourself and loving yourself. 

This is a folded greeting card measuring 5x7 inches (13 x 18 cm) drawn by Andy Cunningham (me) with ink pens and fine coloured pencils, then printed at home, near the sea in England. I can print it on white or cream coloured heavyweight card.

The inside is left blank for your own message.
It comes in a sealed cellophane envelope to protect it from the elements and a stiff card envelope. 

This card was drawn on 18th February 2017. It shows a bear and his dog walking with purpose, the bear is holding a staff on top of which sits a bird that is a little like a parrot, the dog has a stripy tiger-like coat and both the bear and the dog have colourful mohawk hairstyles.
You can use the discount code 6FOR4 at checkout to buy six cards for the price of four, it gives you a 34% discount on any quantity greater than six cards, no, it doesn't work on teddy bears, mohair, patterns etc., just on cards.