---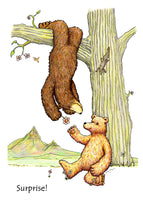 It's great when you get a surprise gift, or a surprise visit, or a surprise visit with a surprise gift!

This is a folded greeting card measuring 5x7 inches (13 x 18 cm) drawn by Andy Cunningham (me) with ink pens and fine coloured pencils, then printed at home, near the sea in England. I print it on white heavyweight (300 gsm) card.

The inside is left blank for your own message.
It comes in a sealed cellophane envelope to protect it from the elements and a stiff card envelope. 

It's often a surprise to get a greeting card, you might hope for some on your birthday or at Christmas but to receive a card at another time of the year, out of the blue (or out of a tree) can be a very pleasant surprise. This card was drawn on 8th September 2017.
You can use the discount code 6FOR4 at checkout to buy six cards for the price of four, it gives you a 34% discount on any quantity greater than six cards, no, it doesn't work on teddy bears, mohair, patterns etc., just on cards.